In the IoT era, more and more devices are being connected together and security has become a significant issue.So why not enjoy a tailored security solution that meets the specific design requirements for your data, with better device protection in for your embedded applications. We will be launching more security solutions in the near future but below are some of the current available solutions.
McAfee Embedded Security Solutions (whitelisting)
99% of embedded devices suit the Whitelisting Solution With built-in application whitelisting and change control technology to lock down devices, protecting against unauthorized malware and changes that could take a system offline is now much simpler. With security integrated into your device, you and your customers stay compliant and avoid incidents that can result in high maintenance and service costs, such as zero-day exploits, high support costs related to device security, and high field maintenance costs tied to unauthorized changes.
Our solution has low impact on system performance, and requires low CPU and memory utilization. The small overhead makes you enjoy the benefits of low ownership cost.
Key Features
Application Control
Protects against zero-day-attack
Prevents all unauthorized applications from being executed
Automatically accepts new software added through authorized process
Change Control
Sets access rights for who or which application can access protected data
Prevents outages resulting from unplanned changes
ePolicy Orchestrator
Protects against zero-day-attack
Fast time to remote deployment/configuration
Reporting
Central management
Compliance requirements
Monitors data of managed clients
Benefits
Minimized desktop footprint
Zero-impact scanning
Intelligent trust
Significantly reduce pattern updates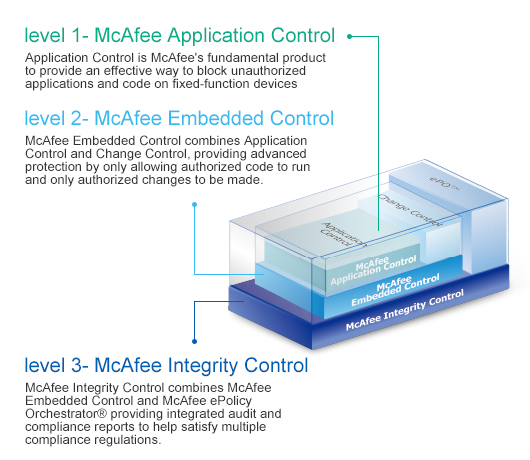 McAfee Endpoint Protection for OEM (Blacklisting)
Today's competitive landscape makes differentiating OEM systems an increasingly difficult yet imperative mandate. How do you meet customer needs and deliver ongoing value to make your systems stand apart? The solution is pretty obvious: make your devices more secure while reducing ongoing security management costs. Security remains the No 1 concern of company executives who understand the security risks endpoints pose to their brand reputation and bottom line. McAfee® Endpoint Protection for OEMs is an affordable way to build advanced security capabilities and greater value into your devices and solutions.
McAfee Endpoint Security 10 provides integrated protection, performance and simplicity for OEM systems. It provides an affordable way to build advanced security capabilities and greater value into your devices and solutions. It combines industry-leading firewall protection, threat prevention, and web control modules into a flexible, easy-to-manage security solution that works as one to protect your devices from cyberattacks. This new integrated architecture allows firewalls, threat prevention, and web control modules to share common services. As a result, McAfee threat defenses work together to more effectively learn, talk, analyze, and act on potential malware and advanced threats in real time.
Key Features
McAfee Endpoint Protection for OEMs unites three powerful security modules. Select the modules for your specific devices based on the system type and environment while maintaining the flexibility to update modules at any time—during installation or once deployed.
Threat Prevention Module: Includes several new, advanced malware-scanning features to defend against emerging and targeted attacks.
Web Security Module: Prevents users from browsing to malicious or unauthorized websites and serves as a replacement for McAfee Site Advisor Enterprise.
Firewall Module: Stops malicious inbound and outbound network traffic.
製品一覧