WISE PaaS/DeviceOn Optimizes Device Management
2020/02/03
Interviewer, Digitimes News
Interview with Rison Yeh, Senior Software Manager of Advantech
According to a recent report published by KPMG, the Internet of Things (IoT) is considered a key to promoting growth in the semi-conductor industry. The number of interconnected devices currently in operation is estimated at more than 26 billion devices–a number that continues to increase. It is estimated that by 2025, the number of IoT devices will have increased nearly threefold. A related IDC report also highlighted that the global technology industry regards IoT as the next new growth stage of technology, and 73% of global enterprises are ready to develop IoT solutions (i.e., will actively conduct planning within the next 12 months). The findings of these two reports clearly indicate that IoT has become an essential driver to future business opportunities in various industries.
For the manufacturing industry, in order to maximize the efficiency, IoT infrastructure is required for connecting multiple devices, collecting comprehensive data, and enabling real-time control and management. In the past, when it comes to device management, it typically involved manual inspections and onsite troubleshooting. The only solution to an equipment failure or unexpected abnormality was to send first-line engineers to the location to diagnose and resolve the issue. Moreover, for software upgrades, engineers were required to manually update each device individually – a process that could take several days if there were numerous machines. Not surprisingly, this is neither a cost-effective nor efficient way for managing multiple connected IoT devices. In response to this gap in the market, Advantech has developed a device management software called WISE-PaaS/DeviceOn to provide an efficient and intelligent means for managing equipment.
DeviceOn Management Solution Accelerates Development
Advantech's DeviceOn software solution was officially launched in 2018. Moreover, from Q4 of 2019, all Advantech products will be preloaded with DeviceOn to enable easy equipment connectivity and IoT device management.
The software allows operators to monitor and control devices, and conduct diagnostics, repairs, and even system restarts remotely. The provision of OTA (over-the-air) supports software updates, configuration updates, and remote BIOS updates. Plus, devices can be updated in batches. Furthermore, with the inclusion of data analysis functions, WISE-PaaS/DeviceOn can be used to preempt equipment failures based on historical data. This facilitates preventative maintenance and minimizes unexpected disruptions and system shutdowns, greatly improving productivity. DeviceOn also provides DeviceOn.Dev development kit for system integrators or end users to develop time-to-market customized applications. Overall, DeviceOn provides a ready to use application (app) and an easy to follow development kit for diverse IoT applications.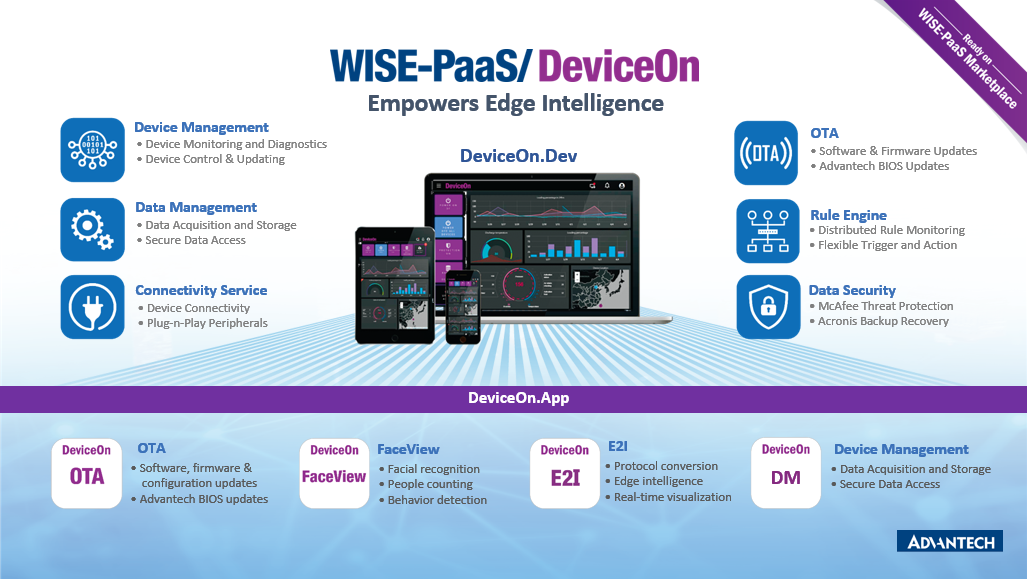 Offers Advantages for Diverse Industries
One of real cases in the medical industry, DeviceOn was adopted to facilitate remote management of assets' location tracking. A global medical equipment manufacturer integrated DeviceOn software with their automated external defibrillators (AEDs).
To ensure availability during any emergency, AEDs are widely distributed throughout locations. However, the scattered locations make managing these assets challenging. Damaged or malfunctioning equipment may cause delays in medical treatment and further serious consequences. In the past, they relied on just a few people to inspect equipment one by one. To address this issue, the medical equipment manufacturer used Advantech's DeviceOn to remotely execute self-tests of AEDs daily with scheduled power on-offs, battery status, and automatic transmission of results back to the cloud for analysis and management.
Another real case is in the semiconductor manufacturing industry. Because of the high value of semiconductors, disruptions to the production line can cause massive financial losses. Therefore, equipment stability is a crucial factor.
To ensure the stable operation of vital systems, one of Taiwan's large semiconductor manufacturers adopted Advantech's DeviceOn solution for conducting daily device operation management and regular hard disk diagnostics and data analysis to enable preventative maintenance and eliminate unexpected system shutdowns. With DeviceOn, the invested production capacity will be maintained without any interruption.
By using the DeviceOn management platform, the semiconductor manufacturer was able to detect multiple machine disconnections before production had even begun and it therefore sent immediate alerts to responsible personnel. This enabled both the onsite technicians and Advantech's support personnel to promptly investigate the issue, identify the cause of the configuration error, and reset the entire system to restore machine connectivity. With WISE-PaaS/DeviceOn real-time detection functions, machine failures were isolated and quickly identified onsite, preventing potential system shutdowns and eliminating costly and time-consuming repairs.
As IoT applications continue to expand, device management has become a serious issue. Advantech's DeviceOn software provides an intelligent networking and AI-based detection solution for device monitoring and predictive maintenance to ensure stable operation and convenient management of IoT devices.