Highest Density Cloud Media Processing for OTT Video Delivery
2017/09/05

Introduction
The growing demand for ultra-high definition (UHD) over-the-top (OTT) streamed content is disrupting broadcasting and mobile business models. Mobile and social video are driving online content consumption growth with OTT viewership expected to exceed traditional viewing by 2020. According to Cisco VNI, mobile video traffic already accounted for 60 percent of total mobile data traffic in 2016 and by 2021, 78 percent of the world's mobile data traffic will be video. This fundamental change in consumers' behaviour brings great opportunities for media, telecom and internet companies that search cost-effective ways to deliver high quality content across a broader range of devices.
Video's nature is however different to traditional voice and internet traffic. UHD video content consumes a massive amount of bandwidth and computational resources. The latest compression technology greatly improves bandwidth utilization but the cost of creating multiple OTT HEVC profiles for multiscreen live UHD video streaming outstrips the processing capabilities of existing video infrastructure solutions. At the same time, media companies are looking to optimize operations by leveraging agile, cloud-based architectures that allows for rapid service provisioning. As a result, OTT video delivery is being offered as a service on the cloud offloading the video processing and distribution hassle from content creators.
Challenges
Cloud-based media processing architectures are driven by IT technologies such as virtualization and software programmability and benefit from economies of scale of commercial-off-the-shelf (COTS) data center servers based on General Purpose Processors (GPP). However, the required performance to process live UHD HEVC OTT streaming can only be achieved by specialized hardware designed to solve video algorithms. These two approaches which may seem conflicting can now converge thanks to Advantech's video acceleration. Advantech VEGA video accelerators combine the best of the hardware and software worlds by providing commercial-off-the-shelf access to powerful video processing technology. By leveraging Advantech VEGA-3318 transcoding accelerators, cloud service providers and equipment manufacturers can deliver up to 32 x 4Kp60 live HEVC profiles per rack unit – the highest density available in the market. This impressive performance can be achieved while still keeping the programming flexibility of software-defined solutions by integrating the VEGA-3318 accelerators into standard open-architecture servers where the control plane is flexibly managed by the GPP and the heavy-lifting video processing tasks are offloaded via an API to the VEGA acceleration card as if it was another software component.
Solution
Advantech VEGA video accelerators provide commercial-off-the-shelf access to high performance hardware acceleration to efficiently scale video processing across a wide range of live UHD data center applications. The new VEGA-3318 accelerator is the first of its class able to perform professional-grade, low-latency transcoding of eight 4Kp60 video streams in an ultra-low-power and easy-to-integrate PCI Express format. It supports UHD, HD and SD formats and HEVC, AVC and MPEG-2 codecs including 10-bit profiles and 4:2:2 chroma subsampling and adaptive bitrate (ABR) streaming.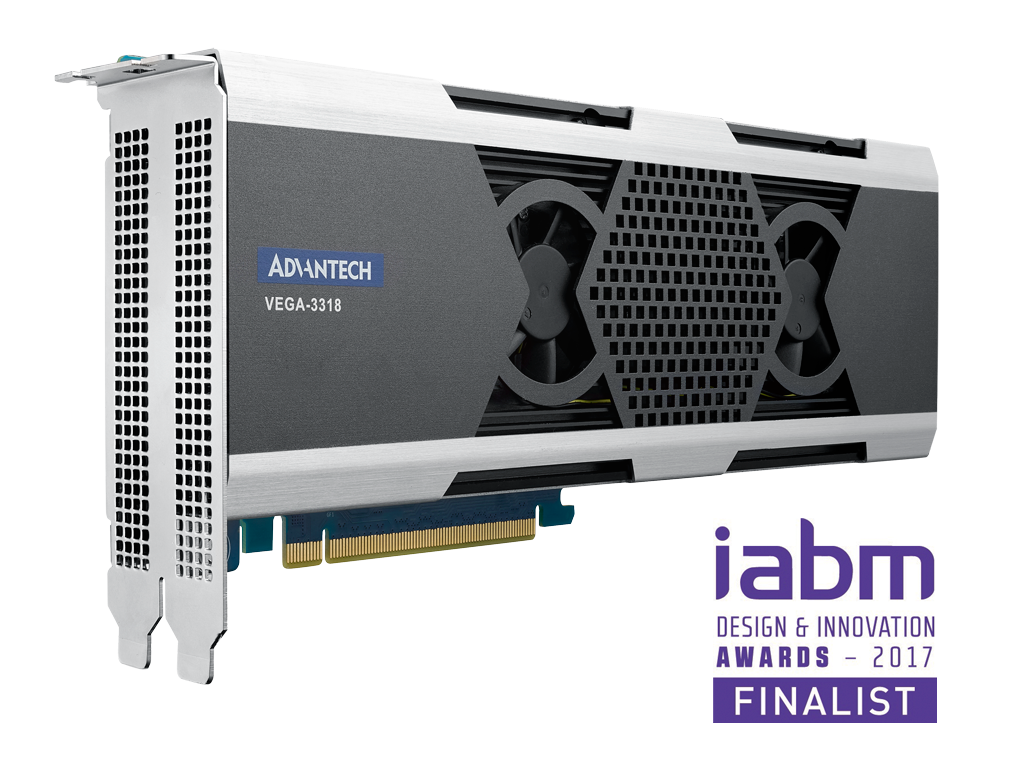 Developers can easily integrate the VEGA-3318 into existing cloud deployments or deploy pre-integrated VEGA 7000 servers which have been optimized for running compute-intensive transcoding applications in live OTT and cloud workflows. Advantech VEGA solutions for the data center minimize development efforts and improve time to market by providing a comprehensive software package that features Linux and Windows SDKs, FFmpeg and GStreamer plug-ins and virtualization-friendly drivers supporting OpenStack. Advantech also offers hardware and software design and customization services for maximum deployment flexibility.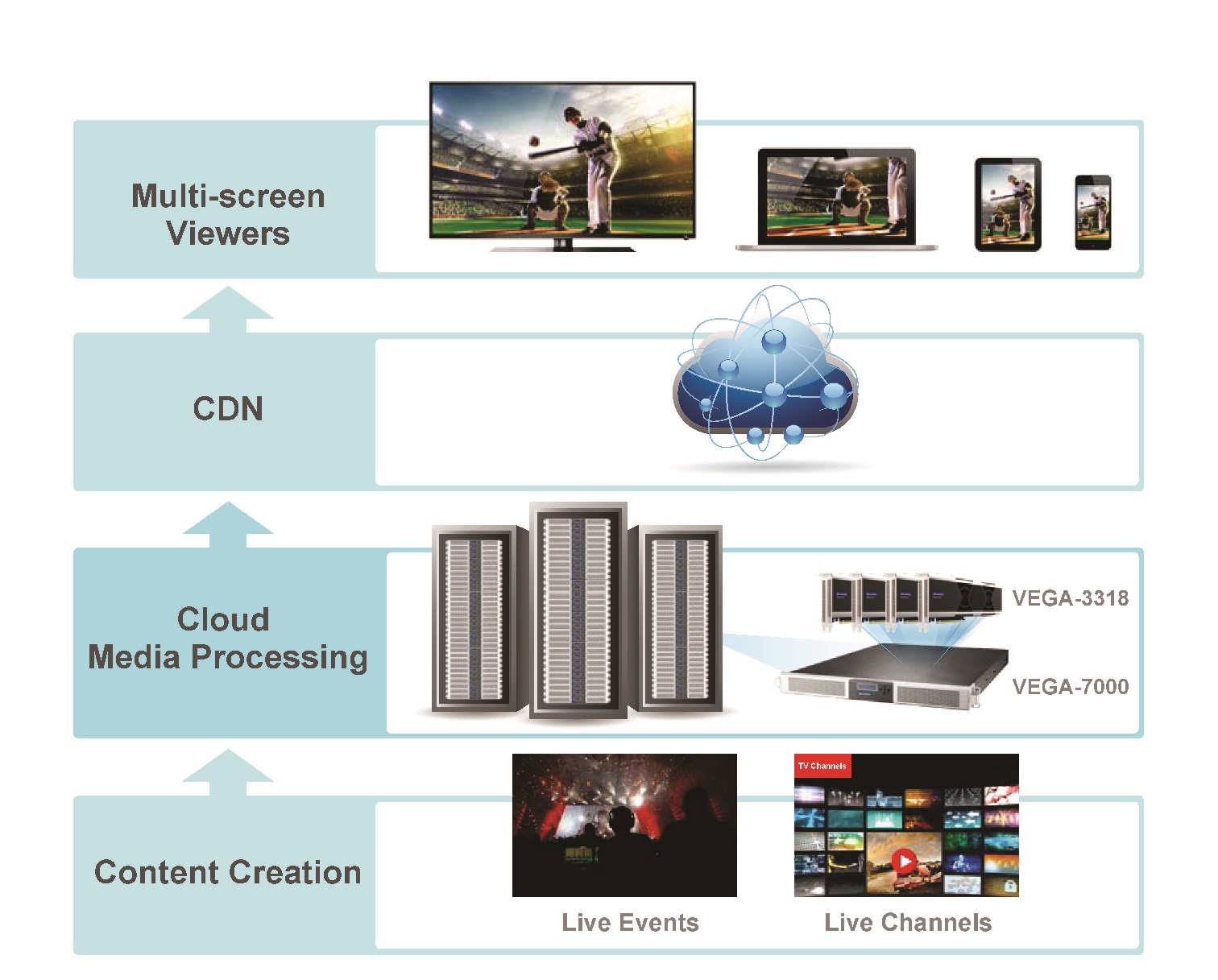 Scalable and cost-effective data center deployments with highest density:
VEGA-3318 accelerated solutions offer the highest density available in the market supporting low latency streaming of 32 UHD HEVC profiles per rack unit with up to 20x reduced size and power consumption. This allows for energy and cost efficient cloud deployments that can meet the increasing resolution, mobility and speed demands of online video viewers.
Agile and programmable cloud solutions with better time to market:
Cloud service providers and equipment manufacturers can leverage Advantech's comprehensive software package that support Linux and Windows operating systems, FFmpeg, GStreamer, virtualization and OpenStack. Advantech VEGA video products are supported by a strong team of over 100 hardware and software engineers allowing VEGA-3318 customers to minimize their video processing development efforts and accelerate the roll-out of their cloud video solutions to catch the online video wave in a cost-effective and timely manner.
Conclusion
Online video content will dominate in the following years and the key players in the media, telecom, and internet industries are already positioning themselves in this direction. Next generation resolutions and codecs drive the need for upgrading the existing video infrastructure processing capabilities while at the same time service providers want to lean on cloud-based architectures potential to improve operations agility and rapid provisioning of new services. The powerful VEGA-3318 is a commercial off-the-shelf PCI Express adapter that can be seized by cloud solution developers to accelerate the delivery of next generation online viewing experiences. Advantech VEGA cloud video accelerators enable efficient and scalable video processing in data center environments to deploy agile cloud services that can efficiently cope with the increasing demand of live UHD video streaming over the top.